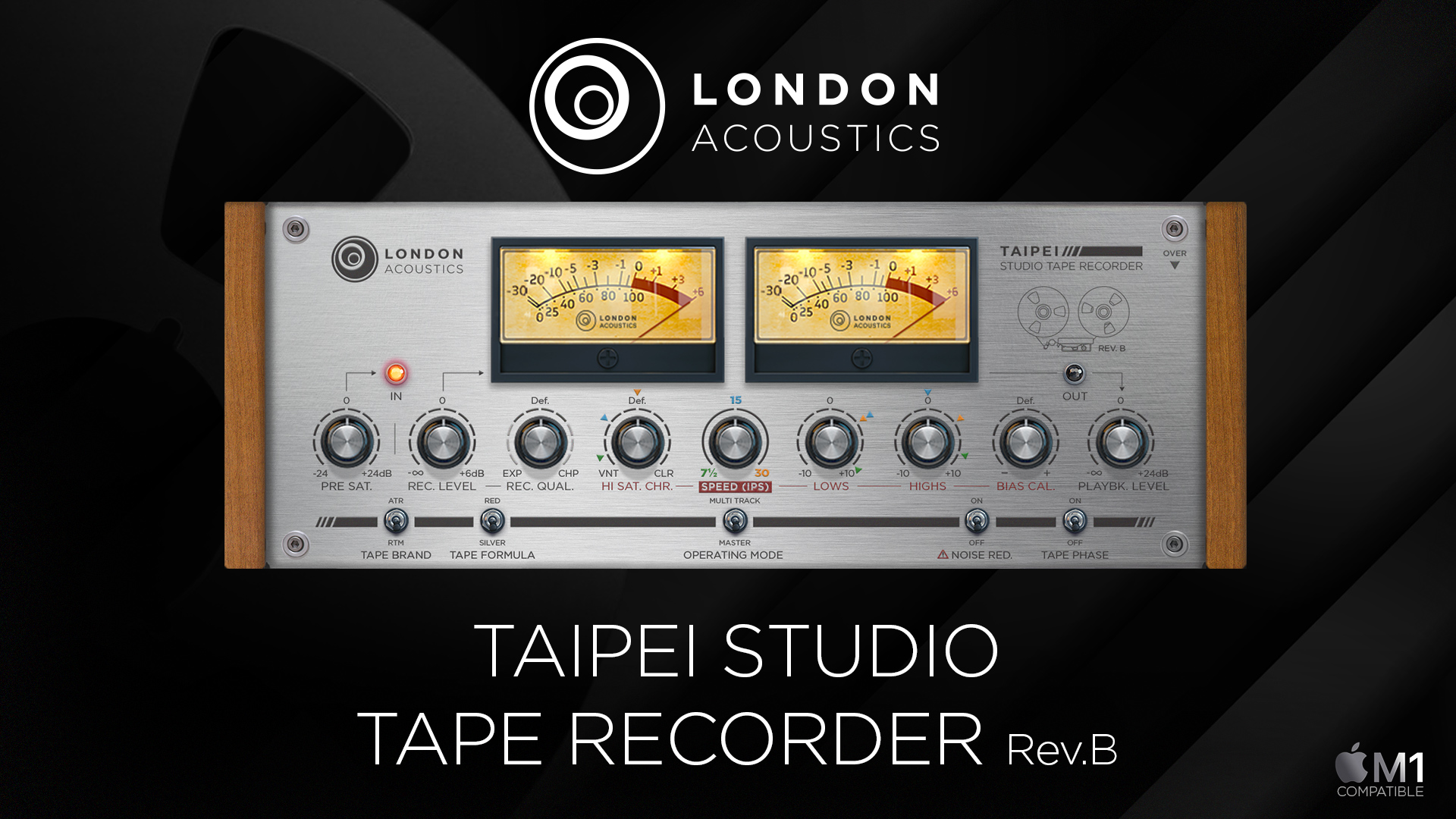 Our Taipei Studio Tape Recorder plugin is finally receiving a well deserved update to Taipei Rev. B. This revision brings in Apple M processor compatibility as well as some bug fixes.
Taipei Rev. B Changelog:
Silicon M compatible with VST and AU formats
Output volume increased back to +24dB
Improved input LED VU meter
Improved VU meters reaction
Fixed NOISE REDUCTION circuitry
Fixed random volume fluctuations on ATR tape
Oversampling
Improved overall sound
Improved CPU usage
OUT NOW – Save 50% on our updated TAIPEI Studio Tape Recorder Rev. B
Until Friday September 22rd 2022 get 50% off TAIPEI Rev. B! Price (MSRP): €115.00, now with the introductory price of €58 (50% off) until the 22th of September (11:59pm UTC+2)

TAIPEI is a plugin made to deliver strong analogue character, in the form of a 16 track 2" tape machine for the tracks, and a stereo track 1/4" tape machine for the master buss. The long process of sampling, listening, testing and studying, helped the London Acoustics team to isolate all their preferred sections of each different tape machine and compose them back into a single plugin.
The plugin is designed for everything you want to make like coming from-a-tape, for single tracks, to the master-buss, and even for mastering purpose.
NB: This is an update, not an upgrade
TAIPEI Rev.B is not backward compatible with the previous version, so it's recommendable to finish any ongoing projects or print the files before the update. It's not an upgrade to 2.0, it's an update to Taipei Rev. B.
Some answers to questions posed during development:
Q: Why no upgrade to 2.0?
A: A 2.0 version would involve a lot more time and work (that means a bigger delay until launch), more space on the server to store and download and we needed to improve on these issues with the original Taipei version first. In any case, you will be able to upgrade and downgrade from Aquarius at any time in a few minutes, depending on your needs.